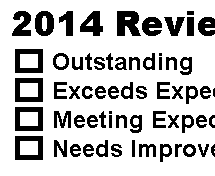 As the office holiday parties roll on, and wishes for happy holidays and the new year are shared, that can only mean one thing. Year-end performance reviews are just a calendar page away for many companies. Just like last year, it's possible that you and your team look forward to them for only one reason: the money that comes from bonuses and merit increases.
Shouldn't there be more to it, though? Shouldn't there be some lasting value from the time invested in writing and delivering them? The answer, obviously, is yes. Last year at about this time, we shared some ideas on making the process better. Here are some others that can make this a performance-enhancing time, rather than just a performance-reviewing one.
Allow Time. Do you give your team enough time to prepare their self-review section? Do they even do one? Many workplaces (outside of retail, delivery services, travel and other seasonal industries) experience a little downtime during December. Encourage your team to reflect on the year now while there is some time to think before the January 2nd resumption of regular business rhythm.
Expect Specifics. If you are not doing this already, improve your review process by including a conversation and documentation about specific performance metrics from the year. Encourage your team members to review their own scorecards, dashboards and other reports as they evaluate themselves. The slower weeks in December can be a good time to pull that information.
Have Balance. While numbers are important in every business, there are also some intangibles that should be part of the conversation. These might include exemplifying company values, volunteerism and corporate social responsibility efforts, developing and mentoring others, and representing the brand.
Look Forward. Reviews are helpful in recording past results, and provide an opportunity to celebrate victories, thank employees for their efforts, and challenge them to improve. Be sure to include a look toward the future so progress in key results areas continues. See our related SMART goals story for more about this.
Collaborate on Goals. Nobody likes a goal given to them. Consider using a coaching approach to ask your employee about the goals she or he would like to set, and how it will be done. If you and your organization are clear communicators of mission and overall strategy, a competent employee should be able to articulate at least some goals for herself. Encourage and allow it to happen.
Reviews do not have to be drudgery. Instead, they can be valuable and contribute to improved performance. Work on it now and your annual review process can be an important part of your overall performance and talent development program.
===
Learning Dynamics offers several customizable programs to help managers be more effective at giving performance feedback. Learn about Honest Appraisal™ and other programs at our Programs page