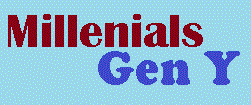 Deloitte's 2014 Millenials Survey offers insight into the youngest working generation's thinking that many of us might not have considered. These early-career professionals, and future leaders of our organizations, have strong opinions on the role of business and how they evaluate an organization for which they will or are currently working. One of the strongest opinions – three out of four said this – "believe their organizations could do more to develop future leaders."
What are some things that your organization could be doing to say, "Yes, we are developing the next generation," and mean it? Here are some ideas:
Give Challenging Assignments: The same survey said that over three-quarters want to work for innovative organizations. Having the chance to contribute creatively can make a difference. How can you stretch your young professionals with assignments that will energize and challenge them?
Formalize Mentoring: Match an experienced person with a new leader, and give them the time that they need to work together. Document the progress. Formalize the program with objectives and measured outcomes. Celebrate success.
Invest in Training and Development: This might sound self-serving coming from a training organization, but it makes a difference. Create a program to allow young professionals the opportunity to earn their way into advanced skills and leadership training. Publicize the program, the participants, and the results.
Mission & Values: Ask for Ideas: The survey also says that Millennials want to work for an organization that makes a difference. This doesn't necessarily mean non-profits; it does mean that your organization can make a positive impact on society while earning healthy profits. Encourage their insights, creativity and values. Tie this into your other initiatives.
Most importantly, talk to your team. They will tell you what they are thinking if given the chance. If you need more help, contact us at Learning Dynamics for training and organization development solutions.
===
Learning Dynamics offers customized training solutions for organizations of every type and size. Managing a Multi-Generational Workforce is one of our programs that can help you engage your company's next leaders.