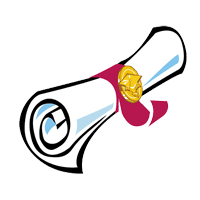 Sometimes you just have to be there to fully appreciate the difference that training can make in someone's life. In the case of the dozens of participants in an English language acquisition class – or ESL, if you prefer – it was a moment of pride and excitement.
One of our Connecticut industrial clients realized that their business unit could be more efficient if its very diverse employee population could communicate better. The client looked at options and hired Learning Dynamics to do the training in their facility. We provided expert instructors, customized the content to integrate job, company and industry-specific language, and held classes several times weekly.
Many made huge strides in their English proficiency.
The graduation was like a party, with certificates, music, and family members in attendance. A Well-deserved sense of accomplishment was in abundance. Here are two of the comments (paraphrased) from the graduates:
"I appreciate my company for providing this language training."
"It's great that the organization invested in us with this training. It is helping in my job and in my life outside work."
Learning Dynamics is already deep into the next class schedules, with another large group learning English and preparing to be more effective. More classes are planned.
Yes, this was an intelligent business decision by our client. It offers plenty of ROI. But it is also a reminder of how an innovative organization can help their employees with relevant training. We can only guess as to how this will drive employee engagement and loyalty to new levels. We expect that everyone will be pleased.
###
Learning Dynamics offers customized ESL training created and delivered by experienced expert instructors. Read more about this employer's ESL initiative here.