Leaders will be copied. They set the tone and serve as the example for others. These ideas, and the understanding of the impact of positive and negative role models, should give everyone in a position of authority reason to consider effective communication techniques. The triangle of behavior is one handy way to remember how a person's behavior affects others.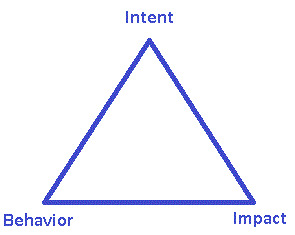 Intent: What is the message that a person means to send to an individual or group? The words, tone and non-verbal cues all are influenced by intent.
Behavior: Actions taken, what a person does, define behavior. Even if no words are spoken, behavior speaks volumes about what is acceptable and expected. Inconsistency between word and action is one of the fastest ways to destroy leadership effectiveness.
Impact: How the receiver of a message understands and handles it is the final piece. This can be influenced by the receiver's mood and willingness to listen and understand, so sender should consider impact when evaluating message effectiveness.
In a leadership setting, intent is often the point that makes the biggest difference and carries the greatest consequences. Consider all three points of the triangle when sending your message.
###
Also see Four Ways to Influence for more about communicating at work.
###
Learning Dynamics offers several customizable training programs to enhance communication effectiveness. Personally Speaking ™ offers tools and training to improve business speaking skills.